>

>

Martim Melo attended SAMC Conference
Martim Melo attended SAMC Conference
News
Martim Melo (a CIBIO/BIOPOLIS participant in TROPIBIO) attended the Southern African Mountain Conference (SAMC) in Cathkin Park/Drakensberg, SA from 14th – 17th of March, organized by the Afromontane Research Unit (University of the Free State, South Africa), African Mountain Research Foundation (UK) & Global Mountain Safeguard Research (EURAC Research, Germany & UN University of Environment and Human Security, Italy). Martim Melo also presented an oral presentation entitled "Evolutionary history of the birds of the Montane Forests of Angola – the missing piece of the Afromontane Archipelago".
This conference – held at the start of the 'UN International Year of Sustainable Mountain Development' – brought together, for the first time, researchers and managers working an all aspects of the mountain systems of Southern Africa. The main objectives where to: i) showcase the multiple research and management efforts being carried out in the region, and ii) bring together a wide community to foster the creation of new network collaborations. Topics included biodiversity and evolution, geology, conservation, land use and management, archeology, etc. There were c. 250 participants from 19 countries, for a total of c. 200 presentations and several workshops. The mountains of Angola were represented only by Martim Melo and by Brian Huntley (representing CIBIO as well). Martim represented Angola in a round-table on 'Southern African Biodiversity Data' on the full-day workshop of the same name (
presentations and a photographic gallery
).
For Angola and Namibia, TROPIBIO has strategically opted to use the highlands of these countries to develop its action on the ground. This is both a well delimited region and the one in need of more urgent attention. It is also tightly connected to CIBIO's Twinlab in Lubango and its major feature – the escarpment – makes a physical connection with both Angola and Namibia, which will promote close collaborative actions between both countries. TROPIBIO is a key actor for the recently created 'Southern African Greater Escarpment' program, led by close CIBIO's collaborator John Mendelsohn who was also at the conference. The conference was used to discuss further this program, and the finalization of its first output, a multi-authored book synthesizing the available knowledge on the region.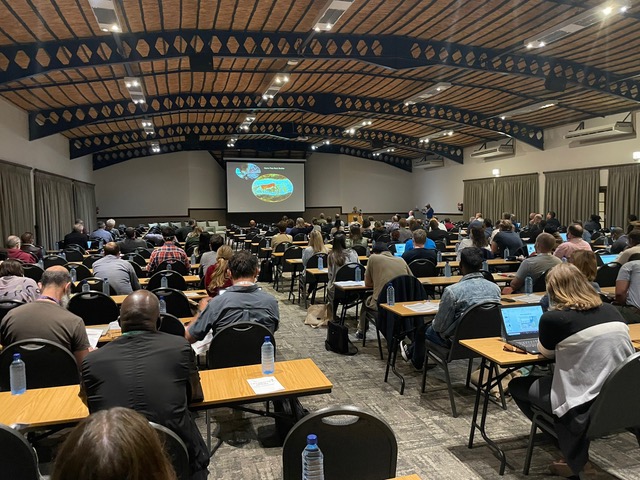 Photo of the main hall of SAMC conference.

Photo-The Drakensberg-conference setting.