>

>

CALL for Marie Curie Post-doctoral fellowship training Webinars 2022
CALL for Marie Curie Post-doctoral fellowship training Webinars 2022
Event
June 02nd, 2022
Youtube Channel
Tropibio and Taxon-time projects invite to
two webinars on Preparing an application for the Marie Curie post-doctoral fellowship on the June 2nd, 2022
as part of the

TROPIBIO EU-Africa Cooperation Series - Marie Curie fellowships.
The webinars are given jointly by Professor Richard Ladle, the Biodiversity ERA Research Chair at CIBIO, and Dr Juliana Stropp, an IF-ERC fellow at Museo Nacional de Ciencias Naturales (MNCN-CSIC) in Madrid. Professor Ladle is a Principal Investigator on the Tropibio project and has previously worked as an expert evaluator for the EC calls. Dr Stropp ran a very successful Webinar in Brazil in 2020 on applying for the MSCA Fellowships and the current webinars are an adaptation of this model.
Leia aqui para informação para o evento em
Português.
The second round of TROPIBIO Webinars will take place on the 2nd of June 2022, online, with transmission at the
TROPIBIO Youtube channel
with the objective to assist early career researchers in Africa (and in the world) to apply for post-doctoral opportunities in Europe (e.g., the MSCA Postdoctoral Fellowships). There are two linked webinars:
Webinar 1 A Webinar in English aimed at African researchers interested in applying for a Marie Curie fellowship.
The Webinar focused on preparing and improving MSCA applications to ensure the maximum probability of success. (June 2nd at 10am /GMT+1).
Please download here the slides for the presentation
and watch the recording of the webinar
here.
Webinar 2 A Webinar in Portuguese aimed at researchers and students from Lusophone Africa.
This webinar began with an introduction to BIOPOLIS/CIBIO's TROPIBIO project and outlined different ways that African Lusophone researchers can collaborate or contribute. This was followed by an overview of the MSCA fellowships and outlined the key steps in preparing a proposal. (June 2nd at 3pm (GMT+1).
Please download here the slides for the presentation and watch the recording of the webinar here.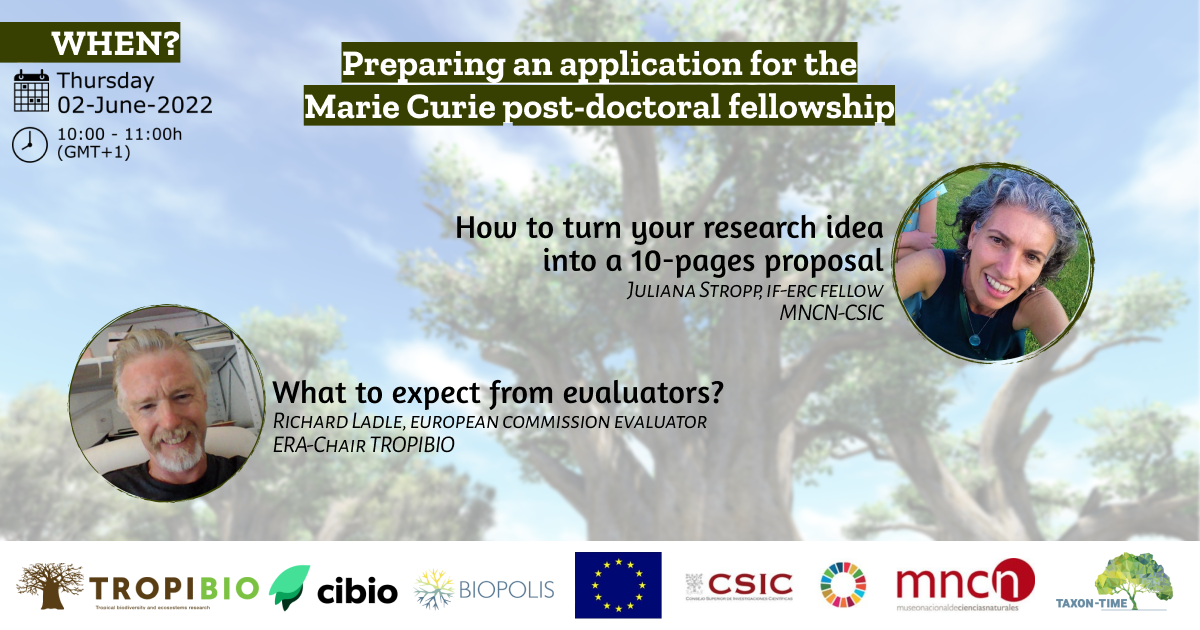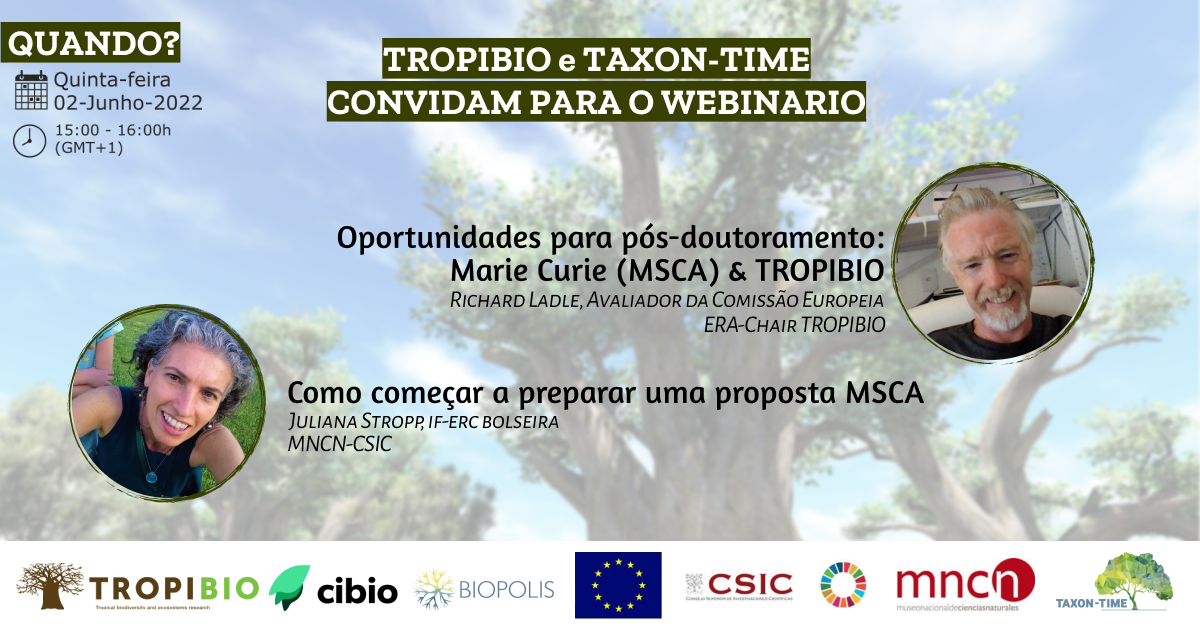 For any questions: tropibio@cibio.up.pt